Information
Zira's Den is a location in the Outlands.
Appearance
Zira's Den is a large rock formation that looks a little bit like a lion's head with stalagmites and stilagtites resembling teeth. Inside is a pathway leading to a large open space surrounding by imposing walls outside.
History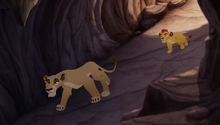 When
Zira
and
her pride
overtake
Jasiri's Watering Hole,
Jasiri
comes to the
Pride Lands
to request
Kion's
assistance.
Kion agrees to help her, and after tasking Bunga with informing their friends of his whereabouts, Kion goes to the Outlands to talk with Zira.
Upon meting Zira, her sons, and daughter, Zira leads Kion away to speak privately with him about the important role that their species play. She then leads him to her den, and remarks that whilst it may not be Pride Rock, it is home to the Outsiders.
Former Residents
Visitors
Ad blocker interference detected!
Wikia is a free-to-use site that makes money from advertising. We have a modified experience for viewers using ad blockers

Wikia is not accessible if you've made further modifications. Remove the custom ad blocker rule(s) and the page will load as expected.