Information
The Utamu Tree is a location in the Pride Lands.
Appearance 
The Utamu Tree sits on the edge of a rocky cliff and the Utamu grubs live inside the tree. It appears to be dead with twisted branches.
History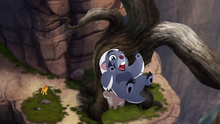 When 
Bunga
 first met
Timon
and 
Pumbaa
, Timon asked the
honey badger
to climb the dead tree and get the
utamu
grubs. As Bunga climbed the tree, the pair compliment on his foolish bravery, giving Bunga his name, and making them his uncles.
When Bunga returns to the tree with Kion, Beshte and Ono, he climbs it once again to obtain some more utamu. Unfortunately, the tree finally snaps, rendering Bunga unable to get the grubs. Although saved by Ono and Beshte, disappointment hit the honey badger hard until he later discovers that the grubs had landed on Timon and Pumbaa below.
Visitors
Ad blocker interference detected!
Wikia is a free-to-use site that makes money from advertising. We have a modified experience for viewers using ad blockers

Wikia is not accessible if you've made further modifications. Remove the custom ad blocker rule(s) and the page will load as expected.