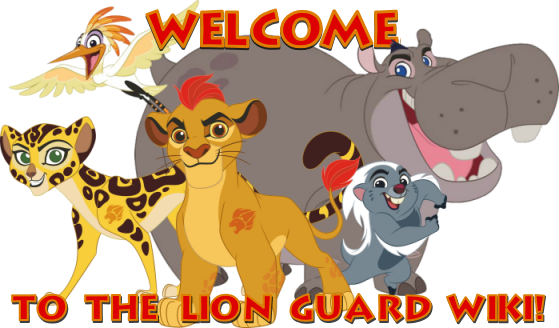 This Wiki is dedicated to Disney's new TV series, The Lion Guard! This spin off of the timeless classic movie known as The Lion King features Simba's son Kion as he assembles a team to protect the Pride Lands and defend the Circle of Life.
This series is mainly featured on Disney Junior, with some episodes airing on Disney Channel.
If you would like to help this Wiki, please check out our Rules & Guidelines! 
New to Wikis? Check out our How to help article for tips! 
You can also join in on the Forums!
~'Til the Pride Lands' end, Lion Guard defend!~


...is a zebra living in the Pride Lands.
Thurston is a proud zebra, albeit somewhat dimwitted. He is easily spooked, and will run at even the slightest hint of danger. To make matters worse, he is also rather scatterbrained, which has even caused him to forget where he lives, requiring the Lion Guard to lead him back safely (after initially becoming confused after Ono asks them to follow him, since, as Thurston pointed out, zebras cannot fly).
He is also very easily offended when the subject turns to the edibility of his own species. Thurston firmly believes that zebras are the tastiest creature living in the Pride Lands, and will become very resentful and arrogant towards anyone who dares say otherwise. Read more...


There have been 994 articles written and 14,258 files uploaded since June 10, 2014.

"Without thinking? Good. That's how we do everything!"
What did you think of The Trouble With Galagos?

 

Want to have your say on other episodes?
More polls here!