Information
The Lion Guard Adventure was an interactive experience based on The Lion Guard that that appeared at Disney's Animal Kingdom on February 7, 2016.
It was available until the end of March 2016.[1]
Information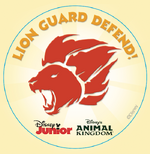 Guests could obtain a map from select merchandise locations, which they would need to take part in the experience. They got involved in a scavenger-hunt style activity through the park, scouring the area for statues of
Kion
,
Beshte
,
Fuli
,
Ono
and
Bunga
. Each statue was decorated with a colorful Lion Guard banner, and each area included a sign explaining their various attributes, the concept of the
Circle of Life
and animal conservation. Guests were also encouraged to perform an action when they found the statues, such as roar like Kion.
Once guests had found every statue, they were to return to Rafiki's Planet Watch where they would be rewarded with a special button and a pledge, making them an honorary member of the Lion Guard.
Other activities, including a photo-op with Rafiki were also available. In addition to this, Rafiki's Planet Watch was airing episodes of It's UnBungalievable!.[2]
The Pledge
I promise
To use my keen eyes
To see right and wrong,
To use my roar, and
To be brave, fast and strong.
I will protect
My animal friends.
I pledge to the Lion Guard,
I will defend!
Videos
References