Information
The Termite Mounds are a location in the Outlands.
Appearance
The Termite Mounds are dry and desolate, with the craggy grounds cracking at various points. There are large, hollow rock structures and termite mounds scattered all around, and the bony remains of dead animals can be seen.
History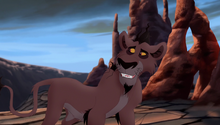 When
Zira
tries to force
Kion
into joining her and
her pride
,
Jasiri
and the
Lion Guard
arrive to defend Kion. After doing so, Kion uses the
Roar of the Elders
to blast all of the Outsiders (except for her son,
Kovu
) far away from Zira's Den, and into the Termite Mounds, banishing them from their former home.
After they land, Nuka questions upon their location, and Zira irritably explains that they are at their new home.
Residents
Trivia
This location was used and seen in The Lion King II: Simba's Pride.