Rainbow agamas are lizards that appear in The Lion Guard universe. They live in the Outlands.
Appearance
In the Real World
Rainbow agamas can be identified by having a white underside, brown back limbs and a tail with a light stripe down the middle. The stripe on the tail typically possesses about six to seven dark patches along their sides. Females, adolescents and subordinate males have olive green heads, while a dominant male have a blue body and yellow tail.
In The Lion Guard
Rainbow agamas look very similar to how they appear in real life.
Information
In the Real World
Rainbow agamas are primarily insectivores, but they have been known to eat small mammals, reptiles and vegetation. They catch their prey using their tongue, the tip of which is covered by mucous glands that enable the lizard to hold to smaller prey.
History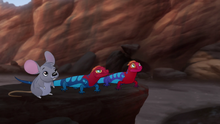 A pair of rainbow agamas and a
mouse
witness
Uroho's
act, but none of them are entertained, and one of the agamas hisses at him rudely once he finishes. They then run away when
Cheezi
and
Chungu
arrive at the scene.