Information
Rafiki's Tree is a location in the Pride Lands. It is the home of Rafiki the mandrill.
Description
Rafiki's Tree is a tall tree with a very thick, round trunk. It has many twisted branches that are topped by a layer of green leaves.
History
As Kion and Bunga play Baobab Ball, the baobab bounces against Rafiki's Tree, causing Rafiki to spring into view.
When Bunga the honey badger is bitten by Ushari the cobra, the Lion Guard take him to Rafiki's Tree in the hopes that Rafiki will be able to cure him. Rafiki soon descends to investigate the honey badger's wound. Whilst there, Rafiki informs Bunga that he is in fact immune to snake bites, which causes Bunga to assume that he's immune to everything else, too.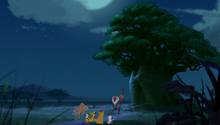 Rafiki tells a group of youngsters, including
Young Rhino
and
Mtoto
and the Lion Guard, the tale of a legendary creature known as
the Zimwi
under his tree. His story is interrupted by
Beshte
's bellowing which annoys him, but he soon
continues his story
. Although Kion believes that the Zimwi, Rafiki does not reveal his own belief on the matter. He shoos the children away, telling them to go to bed before retiring himself.
Inhabitants
Visitors
Ad blocker interference detected!
Wikia is a free-to-use site that makes money from advertising. We have a modified experience for viewers using ad blockers

Wikia is not accessible if you've made further modifications. Remove the custom ad blocker rule(s) and the page will load as expected.