Information
Kilio Valley is a valley located outside the Pride Lands.
Appearance
Kilio Valley is a seemingly small valley surrounded by many willow trees and a few scattered acacia trees. There are several rocks scattered around the area, and a dirt path leading across it.
History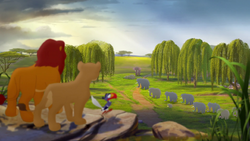 Simba, Nala, and Zazu travel to the valley for to attend Aminifu's funeral. After watching the elephants leave their tributes, they head down themselves.
Simba has a speech prepared. However, when reciting the elephantese words, instead of saying the elephant idiom 'he had good on him', he accidentally mispronounces the words, and instead proclaims that 'he had poop on him'. Simba, Nala and Zazu become concerned, though Aminifu's daughter Ma Tembo laughs, saying that he indeed had poop on him. She thanks Simba, believing that the best thing to do is remember the good times they had.
Visitors
Ad blocker interference detected!
Wikia is a free-to-use site that makes money from advertising. We have a modified experience for viewers using ad blockers

Wikia is not accessible if you've made further modifications. Remove the custom ad blocker rule(s) and the page will load as expected.